One by One. Hoorah!
In Olympia, odorous house ants (commonly called sugar ants) are a major pest we deal with. As the weather is warming up, you might notice more and more ants crawling around your yard, garden, patio, or inside of your home. Ants are one of the most common insects in the world, and their arrival each spring happens as soon as weather starts to warm. Why do ants go marching?
What do ants do when its cold out?
You don't usually see ants when it's cold out because many of them go into hibernation underground. Ants are cold blooded, and when it's cold outside they either die or are forced to return underground. When ants hibernate their heart rates slow down considerably, their breathing slows, and the don't eat or drink. Like sleeping bears, ants hibernate! If for some reason you're seeing ants indoors during the winter, that means that you have a seriously established colony living within the warm confines of your home.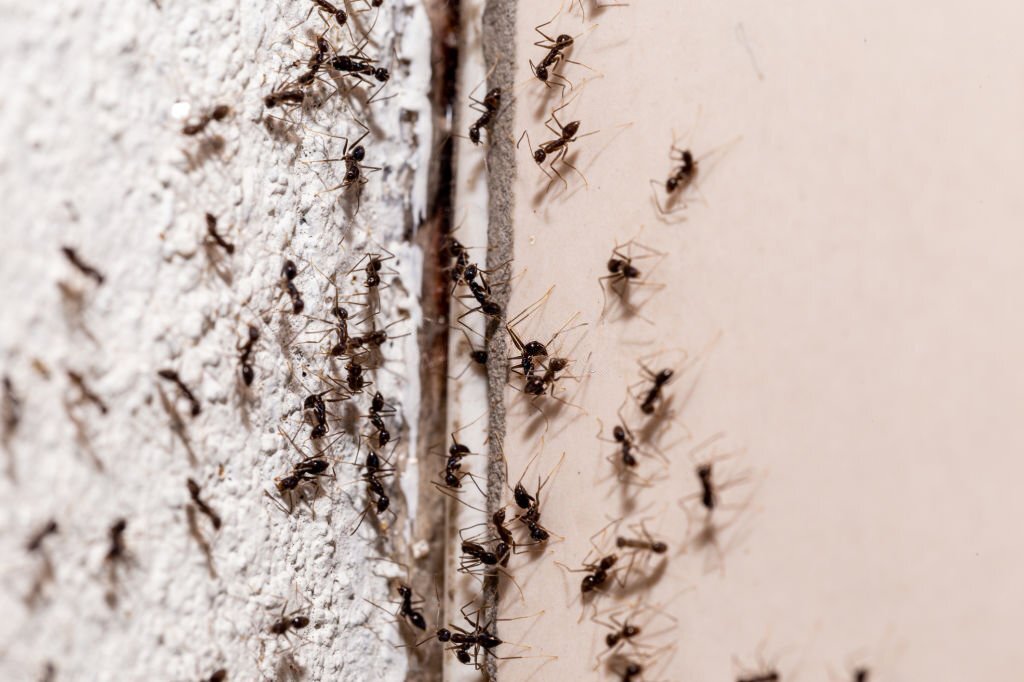 Why are ants in my home during spring?
When the sun starts to shine and the ground warms up, so do the ants. When odorous house ants awaken from hibernation they must quickly find food to feed not only the rest of the colony, but also the queen. Ants will look indoors and out for any food source to help the colony recover from a brutal winter. The most common place for ants to find food is inside of your home, specifically your kitchen. When ants find a viable food source they will alert the rest of the colony and before you know it your living space has become their buffet.
How do we take care of ants in the spring?
Sooner is better than later! Once an ant colony takes hold of your home, the longer you wait the harder it will be to get rid of them.
Keeping a clean home is the single most important factor when it comes to preventing an ant colony from infesting your living space. If there isn't any food, hopefully the ants will find somewhere else to feast.
Sometimes cleaning up crumbs isn't enough. Here are a few tips to help you control odorous house ants during the spring and summer.
Repair your plumbing: Like removing food sources, if you can eliminate an ants water source you can help reduce the colony by eliminating a source of sustainability.
Destroy the colony: Odorous house ant nests can be hard to find, but if you're able to locate them, there are some very effective treatments your pest control professional can apply to them.
Apply bait: Replacing regular food sources with a food source that will eliminate ants can help reduce and eliminate the colony. Ants take food back to the colony to feed the queen. Kill the queen, kill the colony.
Summer ant treatments.
When the sun shines ants are more likely to be outside looking for food and other spaces to live. Hiring a pest professional such as Bigfoot Pest Management to make proper exterior treatments can not only offer immediate relief from odorous house ants, but also prevent ants from making their way inside when the weather is cold and crummy.
When the ants go marching in or around your home during the winter, spring and summer months we recommend calling Bigfoot Pest Management to make sure your ant problems don't become unbearable.
---